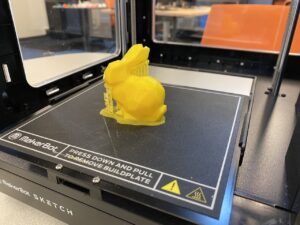 Did you know that the MADLab hosts Gerstein's 3D printing service?
This equipment is available for use by all current students, faculty and staff at UofT. Come and join us for a training session – it's easy to get started, even if you have never used a 3D printer before!
Please note that as of March 2022 our in-person service is closed temporarily due to renovations inside the MADLab.
We will post an update here when service is restored. In the meantime, we invite you to use our new Remote 3D printing service. More details here.
Click here for further information on Software, model libraries, books, labs and services at U of T, Toronto and online.